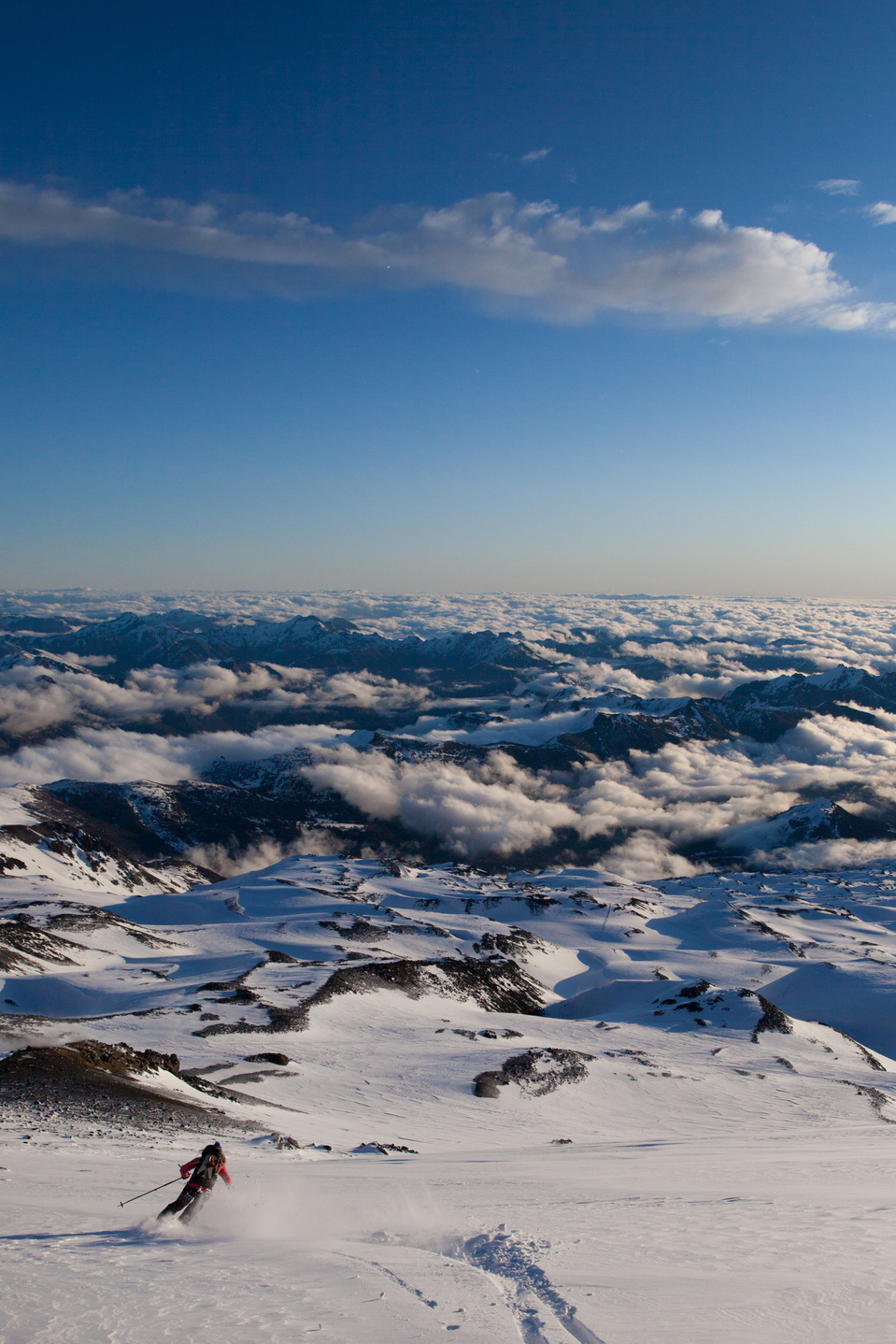 This story was originally published in Skiing Magazine in 2016. See it online here.
Alex Taran has been ski guiding all over Chile for eight years. She's a dirtbag who can almost pee her name in the snow, and she's been chasing winter for 17 seasons straight. And me? Well, at least I made it to baggage claim before I started crying.
When my plane touched down in Santiago, it was six in the morning. The airport workers were on strike, and there would be no more flights going out that day. I was supposed to meet Alex 300 miles away at the airport in Concepción in four hours, and the only phrase I knew in Spanish would lead me to the bathroom. I lifted two of my toddler-size bags off the trolley, scanned the unfamiliar world around me, and felt hot tears streaming down my cheeks.
"We're going to do seven days of locura," or "crazy," Alex had told me weeks earlier over Skype. "We're gonna summit insane peaks," she said, "tour to secret hot springs, and go to the grittiest bars. By the end, you'll be looking forward to your bed in Colorado." My whole body had buzzed as she talked. I've skied and climbed all over the West, but this kind of trip would be a first for me. I was in. Because after packing up all my belongings in my Subaru and temporarily leaving behind my boyfriend—whom I've spent half of my 24 years loving—and Montana—the place I've always called home—for the traffic of the Front Range, I thought I needed an adventure. But now I was wondering how much locura I was actually up for.
As I cried, I felt like I was back in fourth grade, walking five blocks to school with a cello that was bigger than I was. Now I needed to catch a bus to Chillán. I wobbled outside where men yelled, "Taxi, taxi," and I kept walking because they scared me. One followed me like a lion hunting a baby zebra. He picked up my ski bag and started to put it in his trunk. I grabbed it and held on. We played tug-of-war on the sidewalk until a friendly couple walked up. "Do you need help?" the man asked. I wanted to hug him but that would've been weird for lots of reasons. "Yes, I do."
I finally made it on the bus, and I watched out the window as Santiago faded to shacks and farmland. Street dogs lined the highway, and the Andes dominated the horizon. I couldn't wait to ski them. When I finally got to Chillán to meet the girl Chileans call Princesa Alex, the princess of never-ending winter, she greeted me with an empanada and a warm hug. "In Chile, nothing works," she told me. "But everything works out."
Día Uno
I quickly learned that Alex Taran is a local. In Chillán's mazelike market, where we went for supplies, she knew the best meat vendor, what $6 bottle of wine to buy, and where to get the best deal on socks. We were done in under an hour. Alex is 29 years old now, but she was just 21 when she spent her first winter in Chile, ski patrolling at La Parva. Before that she'd been on Snowbird's ski patrol since the age of 19. In 2014 she spent a season guiding in Nevada, where she was the first female guide at Ruby Mountain Heliskiing. Five years ago, when she recognized the lack of avalanche safety gear and education in South America, she started the South American Beacon Project. She has since donated beacons and arranged or taught free avy safety courses for over 350 professionals at more than 20 communities in Chile and Argentina.
We drove uphill for about an hour to the base of the Nevados de Chillán ski resort, where we'd be skiing for the next four days. Everything looked different—the houses, the people, the food. I tried to soak it all in, because I knew that even after a few days, it would all become regular.
Día Dos
The next morning we woke up to poor weather, which is apparently not uncommon in Chile. The farther south you go, the stronger the winds and the more intense the weather. It was cold and windy, and it wasn't even snowing. My breakfast of cheese, salami, some sort of weird dessert cake, bad coffee, and cold, runny eggs lurched in my stomach as we loaded the chairlift. The mountain has six lifts and plenty of really great terrain, but we weren't planning to ski inbounds.
The wind at the top of the lift made me want to curl up in the fetal position, but I think I said something like "It's not that bad" and started to put my skins on, along with several more layers. It felt good to start walking, settling into the methodical click and drag of my skis going uphill—one of my favorite feelings in the world. We toured slowly and couldn't stop talking. I told Alex about how new I am to the ski industry, how this is my first feature story, and how I still see pro skiers as superhero-unicorns who don't have the time for me. I told her how I want to become an athlete myself, so I can keep up and hold my own. "Athletes are just humans," she said. "Like Brody Leven. He's such a nerd. If you ever ski with him make sure to play some NSYNC, or anything from the early 2000s." She talked about her Catalonian boyfriend, Jesus, and how he makes her laugh every single day. They met when she became his roommate last year in their tiny cabin down in Las Trancas. My mind wandered to my own boyfriend. I told her how we'd met in high school gym class. He's taught me a lot of what I know in the mountains; he's taught me how to be patient and confident in my skills. He would have given anything to be touring next to me on that volcano.
I looked around and assessed the situation. From the bottom chair we were already in the alpine. There were a few trees here and there, but mostly it was just open space, as if someone had thrown a giant white blanket over all the mountains to cover up the flaws. At home, a lot of my lines are decided for me by trees, so the opportunity to ski anywhere excited me. The snow was hard and icy—avy danger was certainly low. Our main concerns this trip would be weather-related. The forecast called for rain almost every day. I asked Alex how she got into skiing, growing up in San Francisco. Her family skied only a few times a year.
"When I was in high school, I dropped out and became an anarchist," she told me. "At one point, I was living in a car with three other people and two dogs, and I realized I messed up. I had to figure out what made me happy again. I remembered how much I loved skiing as a kid." She graduated from high school, moved to Salt Lake City, skied hard, and eventually graduated from college. Her goals? "For right now, I just want to live every day to fullest. I know that's a generic fuckin' answer, but I want to be a good person." Part of living well is being humble, something she learned on a 2006 trip to Dharamsala, India. "I hung out with a bunch of Tibetan refugees, and nobody cared that I was ski patroller at Snowbird or a good skier," she explained. "They didn't even know what skiing was. These guys walk around the Himalayas in socks every day, but they aren't going around talking about it. You can't take to the grave where you were published or what line you skied. The only thing that really matters is what kind of human you are."
We topped out on a ridgeline and ripped skins, then traversed a bit. Alex checked on me over her shoulder at least three times; that's the guide in her. We prepared to ski down to Aguas Calientes—a natural hot spring that flows at the confluence of three rivers. The snow was better than I expected—smooth hardpack that forced you to dig in. I'd come from 90-degree heat in Boulder, and any snow felt like good snow. We were the only two people in this huge terrain, just how I like it, so I opened it up. My legs screamed, but I didn't care. At the bottom my muscles felt shaky, a familiar feeling I love. We stripped out of our ski gear and soaked in the sun until we saw the clouds start to build in the distance. Time to ski home.
Día Tres
I woke to the smell of a freshly lighted woodstove. I looked out the window; a dusting of new snow made my wine headache fade. We'd gone to Alex's house in Las Trancas the night before so I could meet her boyfriend and roommates and have a proper welcome. Alex cooked us curry for dinner, and each of us basically had our own bottle of wine. We played poker and although nobody spoke English I still felt I belonged. At one point Alex told a story and I noticed how when she spoke Spanish she lit up. Her eyes and her body became expressive and there was passion in her voice that just wasn't there when she spoke English. I wished I could understand the story, but I didn't need to. When we went to bed, Jesus and Alex separated the twin beds they'd pushed together in their tiny room, and the two of them cuddled up on one so I could have the other.
"Whenever there's a skiff of snow in Las Trancas it means it's a powder day," Alex told me as we made a breakfast of leftover curry from the night before with scrambled eggs. I scarfed it down, even though the ginger in the curry didn't seem to mesh well with the eggs. I would have to get used to that kind of thing, because Alex is a gloriously thrifty dirtbag. (She'll eat the gnarliest, blackest part of an overripe banana. She steals toilet paper from fancy hotels, and if there is any sort of free buffet it's guaranteed she'll go back for thirds.)
We hitched a ride to the ski hill with a Palestinian dude named Jerek who insisted we squeeze in the cab of his tiny truck with him and his three buddies. I had to sit on one guy's lap. He looked like he was about 16. "Two days in Chile and you already found the love of your life?" Jerek said to me in Spanish. I didn't understand, so I just smiled and the boys all laughed at me. Alex gracefully changed the subject as my face glowed red and the boy whose lap I was on took a selfie. We got out and started walking toward the mountain. "Those guys were…" I paused, searching for the right word, "aggressive." Jerek had just tried to spin a brodie in the parking lot but instead lost control and drove through a fence.
Alex explained that the men in Chile are over the top, especially when it comes to blond tourists. She taught me the Chilean Finger Wag. Apparently if I wag my pointer finger at them like a soccer player denying a foul, they will retreat, offended. "But only use it if you're really pissed," she said.
The snow was amazing. We took the lift up and did a run and I shot some photos. I started to get nervous because I'd never really gone out with the purpose of getting a sick skiing shot. I knew Alex had done this a bunch of times, which made me even more nervous. "So, what does Will Wissman do when you guys go shoot?" I asked, as casually as possible. "Oh, Will is so fun! Haven't shot with him much, but he likes to have skiers make multiple turns, and he's interested in the transitions between." "Oh, gotcha." I said. We got off the last lift and traversed for a long time until we hit a big, open, untracked bowl. I skied down a little bit and told Alex to just make a turn around me. "Can you throw a snowball where you want me?" Alex yelled. "I can't throw a snowball that far," I yelled back. "Just, you know, crush it!" Alex skied her line and it was beautiful. She might not shred AK lines like Angel or throw double back flips like Tatum, but she has a killer turn that demands attention. I snapped some photos and stuffed my camera in my bag, eager to ski. My skis sank in. I felt bottom, but snow billowed over my knees on each turn. Toward the end of the day, we skinned out of the resort to Volcán Nuevo and hunkered down in a crater to wait for sunset , when we'd ski down. "Would you rather be a really super-good singer, dancer, or musician?" I asked. "Musician," Alex said between shivers. "I think I'd play the guitar. I feel like people love when someone in the group can play the guitar."
We were going on three hours on the summit. The warm steam coming out of the crater was nice, but it also made us damp. I was thankful for the stale gummy bears in my pocket and relished each one. Neither of us wanted to be shuddering in a damp hole for three hours, but neither of us was going admit that. Instead we had at least three dance parties and distracted ourselves with an exceptionally dirty game of Would You Rather. "Would you rather have dicks for arms or a boob on your forehead?" I asked. "Dick arms," Alex said confidently. "Would you rather get a tattoo of a cup of coffee or an outlet on your biceps?" "Outlet." Finally the snow started to glow gold and the sun breached the horizon. We shed our puffy coats and clicked in. We pitched out the top section, snapping photos along the way and taking our time. It wasn't about skiing fast or shredding a sweet line. It was about soaking in each turn. The sky and the snow turned pink and orange and the Andes surrounded us on all sides. As I watched Alex take off down the mountain, she let out a loud Whoop! and then the only thing I heard was the sound of her skis swishing in the snow as she disappeared. I took a long, deep breath, knowing this would be the best skiing I'd ever had.
Día Cuatro
I was alone and it felt nice. Alex's friends Manu and Pepe were about five minutes ahead of me, and Alex had stopped a ways back to shed some layers. We were touring up to the summit of Volcán Nevados, where we planned to traverse up to a higher peak called La Pyramida. Skiing the fall line would take us 6,000 feet to the valley floor and to Shangri-La Road, the road Alex lives on. It was Dieciocho, Chilean Independence Day—perhaps the biggest and most celebrated holiday in Chile. Alex had been preparing me for this day since we talked on Skype before the trip. Most Chileans take a week to celebrate Dieciocho. Everyone gets together for an asado, where they cook meat, stand around, and eat it one piece at a time. Then they go to la fonda, a big party—in our case, held in a giant barn—where they dance, drink pisco, and eat until, well, the next day. Chileans have a ton of pride, and this day is important to them. It was important to Alex that we celebrate it properly. I've always sucked at partying, and I knew if we partied, we wouldn't be skiing the next day. But I accepted the fate that awaited me at the end of the day. We were stopped about 1,000 feet from the summit of Pyramida by a huge cloud that also engulfed the summit of Nevados. We decided to have some lunch and give the cloud some time, but we all knew it wasn't going anywhere. Alex and I asked Manu and Pepe to teach us a traditional cueca, the national dance of Chile. I giggled as Pepe approached Alex and offered his arm. Alex joined him and they strutted around the snowy ridgeline, chests fully puffed. They faced each other, Alex holding my floral neck warmer high in the air, and danced around in a circle, frequently losing balance in their stiff ski boots. In a cueca, the dancers never touch, and the goal is to maintain contact through facial expressions and movements. I gave it a go and quickly decided I like swing dancing better. We finally bailed on the summit and skied down to Shangri-La Road from where we were. The top half of our descent was riddled with blue ice and a tricky wind crust Chileans call canton. I went first so I could take photos of Alex. The group skied past me, navigating the canton like pros. I stuffed my camera in my pack, threw it over my back and pointed 'em. The snow felt soft at first, but three turns in I hit the canton at full speed, failed to stay forward, and ate shit. I tumbled a few yards and felt snow invade my long underwear. Canton 1, Leslie 0. When I got down to the group, they tried to play it cool, but I soon realized they'd decided I wouldn't be skiing last anymore.
Día Cinco
I woke up with a heavy head and a tired body from sending it late into the night. There was no way we were going skiing. So we recruited Manu and his teeny car and drove south. I sat in back, crammed against three pairs of skis and mountaineering axes, and leaned my head against the window. Alex was passed out in the front seat. Manu blasted modern cumbia music as I watched the landscape change. We had rented a cheap cabin outside the town of Lonquimay near Corralco Ski Resort. We planned to ski Volcán Lonquimay, which is off the top lift at Corralco, and then end our trip skiing some spines Alex had scouted earlier in the year on a volcano called Sierra Nevada. When we got there, we found that her spines had disappeared with the warmer weather and rain. So we hung in Alex's friend Christian's fogon (a building with a hole in the top where Patagonian ranchers can have a fire and cook meat) and prodded him for beta. We drank wine and ate homemade bread and cheese around the fire. Christian presented me with traditional Chilean ranching attire—chaps, rope, and a hat all made from various animals. I put it on and he took photos. I really wanted to give him The Wag. He told us the whole face we wanted to ski on Sierra Nevada was a glacier riddled with crevasses. Rain was forecast for our last two days, and our hope to ski big peaks drained with the wine in the bottle.
Día Seis
As we booted up Lonquimay's magnificently bare and windblown flank, I felt strong and hiked fast. I passed Manu and Alex and found myself on the summit alone. Alex had told me the view was spectacular, but it was even better than I expected. I could see the summits of Llaima, Ianin, and Villa Rica, and for the first time I got a feel for how big the Andes really are. I could ski this range forever. Before we skied, I remembered crashing. Alex told me to stay forward in the canton and really jump from turn to turn. When we dropped in, I started getting the hang of it. When we got back inside the resort boundary we all let it rip. That's a plus of resort skiing—the freedom to let go. And the mountain just kept coming. I skied fast and it felt good. We didn't stop, or ski in pitch, and we didn't see another skier until the very bottom. I felt an appreciation for resort skiing that I hadn't felt in a long time. We cracked a beer and sat on the tailgate, reveling in the place. I felt a little wave of relief wash over me as I realized seven days of locura were almost over.
Día Siete
I was tired, Alex was sick, and it was raining. But it was my last day and we decided to give 'er. We probably drove down six or seven different farm roads to find the right trailhead. We hiked a good few miles through mud and slippery rock and tree roots to get to snowline. And when we got there, the rain didn't just pick up, it dumped buckets—the kind helis drop on forest fires. We turned around, but by the time we were back at Manu's baby-size car, the sun was out again. I wasn't even mad that we bailed prematurely. None of us were. This trip was never about summits, or even skiing, really. It was about taking a leap in a new place with a new friend. Alex and I sat in our least-soaked baselayers in the middle of the dirt road. We cracked open a couple beers and clicked the cans together. We were both smiling, somehow so happy that this trip was almost over but at the same time grateful for our time together. She scooted down to her back and let the sun soak into her skin. Then she just started laughing. It spread to me, and we broke out into a fit of uncontrollable giggles. Manu was chilling on a rock, rolling a plump spliff. He looked up from his masterpiece and shook his head at us. I knew what he was thinking. Ustedes chicas son locas. You girls are crazy.
Check out more photos from the trip here.