Originally published on skiingmag.com
When I saw my brothers walk out the doors at the Denver airport I got butterflies. The kind of butterflies reserved for family members you haven't seen in a long time. I gave them both big hugs and we walked to my Subaru in short-term parking.
"I'm driving." Ray said. Tim took shotgun and I moved things around in the back of my Subaru to make their skis fit. I crawled in last, taking middle seat of my own car, sandwiched between my panting dog, Cash, and my best friend, Steph. Tim already had bangers blaring from the speakers—some SoundCloud remix. It was around 1 p.m. as we began the slog up I-70 to Aspen.
"How long's the drive?" Ray asked. "About four hours," I said as we slowed down, already running into traffic on Peña Boulevard. "
Fuck," Ray said.
As the miles passed, Steph and I looked out the window and talked about future skiing objectives as my older bros hypothesized about who bangs Obi-Wan Kenobi in the new Star Wars movie, and which Lakers players were at the strip club the night before the big game, or something. "Well Steph," I said, "this feels about right." No matter how old I get or how much I accomplish in life, I'll always be the little sister.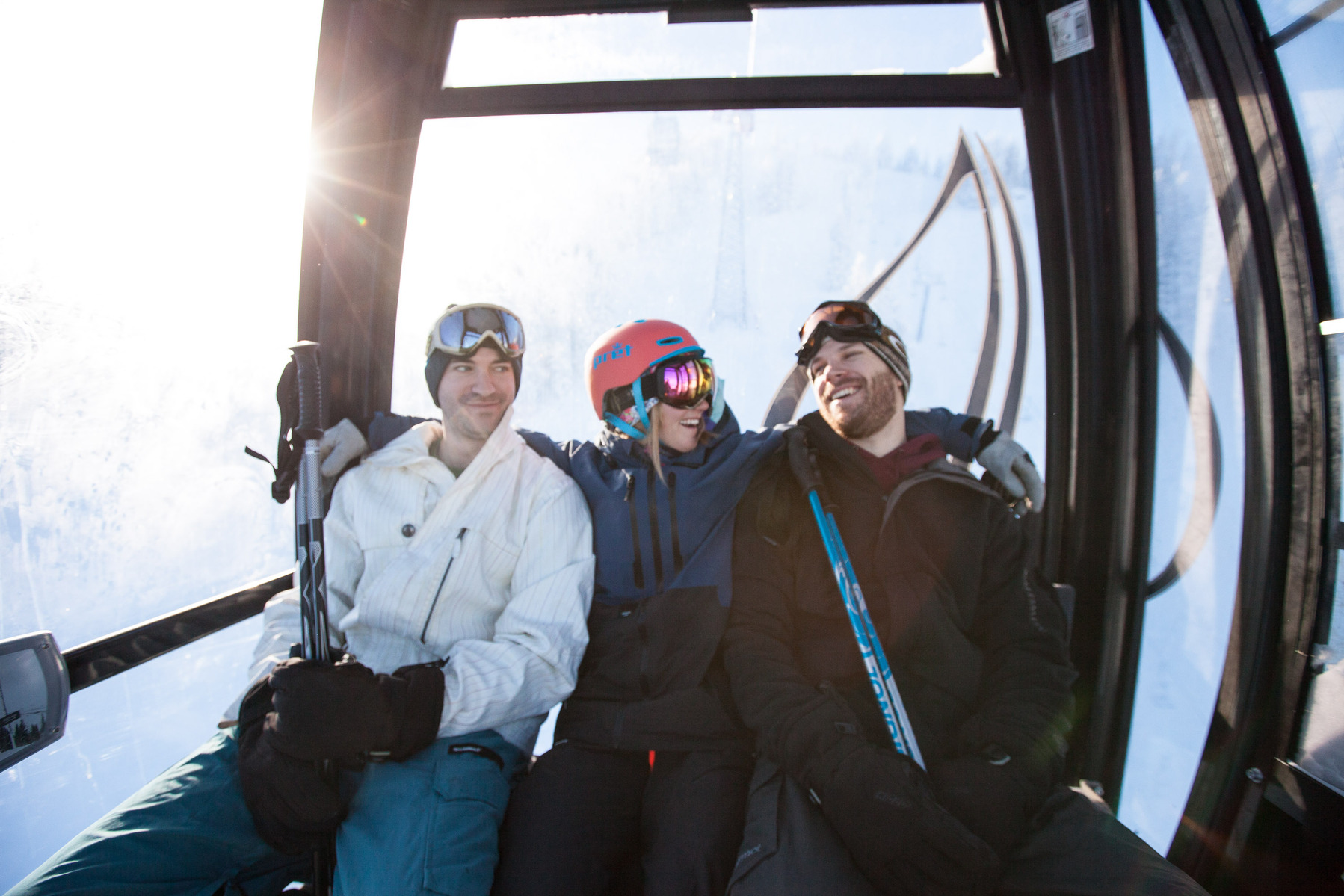 My older brothers are close for a lot of reasons. They both love sports, bars, and sports bars, and they've shared the same friends since elementary school. An impressive group of 15 dudes who all grew up in Billings, Montana, partied hard at the University of Montana, and resisted girlfriends and real jobs until their late 20s. All this has allowed them to truly become best friends—leaving me, their little sister, as the oddball. And then, a few months ago, I realized we all do have one thing in common: We love to ski.
I was sitting at my desk at work when I sent out a group text saying they should come ski with me this winter. Immediately, I got a response from Ray. "Love it. I'm ready to book that shit." At 26 years old, Ray's the middle child. He lives in Minnesota and is going to school to become a chiropractor, partly because he's been in chronic back pain since a high school basketball injury, but mostly because he just wants to be his own boss. Ray and I have silliness and general anti-social tendencies in common. Like, if you were to ask us if we wanted to join you in downtown Denver on your biking-brewery tour, we would definitely tell you no. He can always make me laugh with some weird voice or accent, and he doesn't care what people think. "Shotgun! I can do Dec. 17 through 20," Tim replied.
Tim is the oldest and it's not hard to tell. He has his shit together. He looks good all the time and is easily the most charismatic of the three of us. He doesn't struggle in social situations. In fact, he thrives. He's a natural leader. He's the type of person you want to be liked by because he's so cool. I did some research and figured Aspen sounded like a happy medium for the Hittmeier clan. Fun nightlife in a glamorous mountain town meets a bad-ass ski hill known for having lots of expert terrain. I'd take them down the most challenging runs all day, and then Tim would make sure we crushed après—as soon as I explained to him what après is.
When we arrived in Aspen we wandered down the snowy streets until we found ourselves in The Ground Up Bar. We sat down at the small counter underneath a staircase, and the Kiwi bartender Blair asked us where we were from and then placed a free shot of bottom-shelf tequila in front of us. We drank until the hunger hit, and Blair sent us off to find this "really cool" Sublime tribute band. Instead we went to the White House Tavern, ate chicken sandwiches, and drank too much wine. My brothers caught up on which friends of theirs are engaged and compared receding hairlines. We were planning on going out to party but when we stepped outside it was really cold. And my brothers didn't really have jackets. Yep. No jackets. Tim has a really warm ski jacket but wouldn't wear it to town because it wasn't stylish enough, so instead he opted for his Calvin Klein sweater-jacket thing. Ray, on the other hand, has plenty of insulated jackets at home, but didn't pack them. I don't know why. Instead he chose a beat-up old cotton hoodie he got in college.
"It's fucking cold out." Tim said.
"Yeah, let's just go back to the condo and play hearts." I said. "Done." Ray said.
The next day we woke up and I took Cash to the park for a quick walk while Tim tracked down the nearest Starbucks—he's sort of our basics bitch. We skied groomers and packed powder at Ajax. It was sunny and beautiful, but cold, the kind of day where the snow looked like glitter as it flew up behind our skis. We explored every lift but eventually landed on Gent's Ridge lift and lapped it hard. It felt good to hear my brothers compliment my skiing. And even though they only ski once or twice a year and their gear is from the mid-90s, they skied well. Surprisingly well. Ray skied fast and out of control, and every time he stopped he fell over. But he chased me down the groomers and we'd race to the bottom—just like when we were kids on Lazy M at Red Lodge Mountain in Montana. Tim was collected and controlled but a bit wobbly, and both of them threw out the occasional "Oh shit" pizza maneuver when things got spicy. And when Ray started to lie down every time we stopped, I decided it was time to après.
When we walked into the Skier's Chalet I knew we'd found them: the locals. Our new friends—Aspen girls and ripping skiers Tucker and Meag—brought us there to see the side of the town not everyone gets to see. And it was amazing. The Skier's Chalet was actually the first hotel at the base of Ajax, but it was replaced by the fancy stuff 20-some years ago. And right now, it stays standing, inhabited by a bunch of ski bums who pay very little in rent to live in this beat-up shack with no kitchen. Why? It's 20 yards from the Shadow Mountain chair.
My brothers lit up when we walked in—they may not be ski bums but they do love to party. We posted up in a little corner by the mini fridge to observe: It looked like the ping pong table would be taken for a while (I think you have to be a local to play), everyone in the room knew each other, and we should have brought more beer. But eventually people started coming up and introducing themselves. Conversation was easy. Everyone was nice, funny, and interesting, and my brothers were killing it. Instead of the typical "sick line we ripped today" conversations, we chatted about Game of Thrones, and I taught local pro Katrina Devore how to thumb-punch a can of PBR (you're welcome, Katrina).
In the morning our one objective of the day was to hike Highland Bowl at Aspen Highlands. It's about a 30-minute bootpack that tops out around 12,400 feet. My bros live at sea level, so hiking with skis on our backs above treeline was huge for them. Tim followed Tucker and Meag and I hiked behind Ray. As I watched his old boots slip all over the icy ridge, it made me nervous and thankful for the Vibram soles and walk-mode on my Dynafits. We moved slowly and the wind whipped 40 miles per hour. When we reached the top the wind was unbearable, and there was a moment of group hesitation. And then I realized that my brothers were looking at me. They wanted me to lead them. I stepped in front and dipped down just below the summit, where we quickly gathered and clicked in, then followed Tucker and Meag down the ridgeline to the G-Chutes. We skied a long, steep pitch of chalk—it was heavy, but amazing. So steep. The steepest thing I'd skied in a while. I imagined how good of a skier I'd be if I got to ski this every day.
When we got to the runout, Meag explained how ski patrol controls the area by recruiting volunteers to come boot-pack up and down the runs. "Good thing they control it because they way I skied that, I would have started an avalanche for sure," Tim said, poling hard on the catwalk. Meag laughed so hard she snorted, and Ray remained unimpressed. The whole way down the base lodge, where we headed for a pitcher and some pizza, I couldn't stop smiling thinking about my brothers hiking up that mountain. On the last run of the day we decided to pop into Cloud Nine, what appeared to be a quaint, mid-mountain lodge. But apparently, every day after noon the place turns up the music and furred-out millionaires ball out on $10,000 bottles of champagne and dance on tables. We bought a pitcher of High Life and watched the show. I don't think my mouth closed once.
When we left, cougars stumbled into their skis and pushed off onto the dark groomer, making their way down to the lights of Aspen underneath the mountain. I clicked into my skis and listened as my brothers clicked in beside me. I skated off and, arcing long and fast groomer turns in the dark, a memory popped into my head. When I was seven, my dad said he'd give us $5 each if we made it through a game of Monopoly without fighting. I was so excited because it meant my brothers were going to play with me. I remember trying to make the game go as smoothly as possible. But the inevitable happened: I ended up crying, and my brothers ended up punching each other and also crying. "You just wait," my mom told me. "When you get older, you and your brothers will be good friends." I can finally say we are there.
And next year? We're doin' Chamonix.